Great American Road Trips - Hidden Gems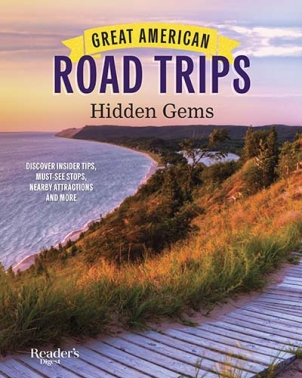 Discover insider tips, must see stops, nearby attractions and more
Great American Road Trips
By The Editors of Reader's Digest
Published by Trusted Media Brands, Inc., Reader's Digest
First-person accounts and gorgeous landscape photos paired with practical information and tips to help travelers make the most of their journeys through 39 special hidden gems found across the country.

Discover the most beautiful places in America that you might never have heard of before. Hidden Gems features:
engaging first-hand travel accounts;
helpful advice about must-see spots, rest stops, and other ways to get the most out of your trip; and
stunning images taken by many of America's best scenic photographers.
Some spots offer activities for the more adventurous, such as rafting or mountain biking; others include suggestions for the more leisurely traveler who wants to stop and take in the views by the roadside. The small towns and people you encounter along the way will certainly be memorable. This book will help you set the agenda for your next getaway.

So, get ready to jump in the car or RV and share these experiences with the ones you love! From the Organ Pipe Cactus in Arizona and Sleeping Bear Dunes in Michigan to Gullah Geechee in South Carolina and Litchfield Hills in Connecticut, these lesser-known scenic spots are definitely worth exploring!
• INSPIRATION FOR ALL KINDS OF TRAVELERS. From history buffs to armchair travelers, nature lovers to adventure seekers, this book contains information and inspiration for all types of wanderers.

• PERSONAL STORIES. First-person accounts from readers about their trips to these spots add a personal touch to this unique guide and puts you right there in their shoes.

• PRACTICAL PLANNING ADVICE. Maps and tips about rest stops, nearby attractions and other advice helps travelers get the most out of their trips.

• BEAUTIFUL PACKAGE. Inspirational and gorgeous photography makes this a terrific coffee table book or gift for the travelers in your circle. Each of the five regional sections of the U.S. covered in the book begins with an amazing photo of that area.
Paperback | 192 pages | $19.99 USD | 8" x 10" | 9781621455936 | February 1, 2022