Gardening for Birds, Butterflies, and Bees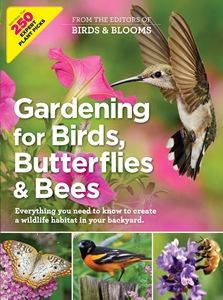 The Ultimate Book for Beauty in Your Own Backyard
By The Editors of Birds & Blooms
Published by Trusted Media Brands
No matter what the subject, everyone wants advice they can trust. This is certainly the case when it comes to the backyard. Whether you're installing a new garden bed or trying to attract orioles for the first time, it helps to start with the right information. And here it is!
In this book, experts and readers from North America's #1 Bird and Garden Magazine, Birds and Blooms, give their tried-and-true advice on some of these popular backyard topics: gardening for birds and butterflies, feeding birds, attracting hummingbirds, veggie gardening, composting, fall gardening, taking backyard photos, and bird feeder pest control—just to name a few. You can even get clever DIY ideas, homemade suet recipes, bird profiles, plant recommendations, and more.
There are 250+ plant picks and profiles, 60+ bird profiles and 30+ butterfly profiles. All of the plant profiles include a small symbol which tells which wildlife the plant helps attract. There are also light symbols throughout that tell you how much light or shade is needed for the plants, so the reader will know exactly which plants do best in full sun or shade. There are also DIY projects for creating things like birdhouses, feeders and birdbaths—all to help create a bird and butterfly friendly backyard. Backyard tips and sidebars will also be sprinkled throughout all of the chapters. The best part about these tips is that they've all been tested by our Birds ad Blooms readers and they've also been approved by the Birds & Blooms panel of birding and gardening experts. So you can definitely feel confident when you apply them to your own yard and garden.
CONTENTS
Introduction
Chapter 1: Creating a Wildlife-Friendly Backyard
Chapter 2: Annuals
Chapter 3: Perennials
Chapter 4: Grasses and Vines
Chapter 5: Trees and Shrubs
Chapter 6: Backyard Bird Profiles
Chapter 7: Backyard Butterfly Profiles
Chapter 8: Frequently Asked Questions
Chapter 9: Backyard Projects and Resources
Index
Trade Paper | 256 pages | 8 1/8 X 10 7/8 | 9781621453031 | February 2, 2016