Family Handyman Whole House Storage & Organizing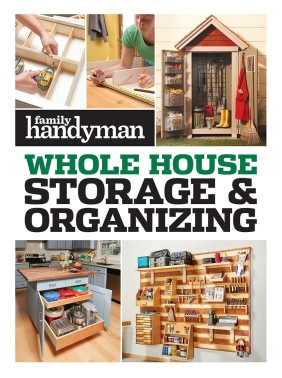 By The Editors of The Family Handyman
Published by Trusted Media Brands, Inc., Family Handyman
Continuing Family Handyman's "Whole House" series, this book offers readers a wide variety of tips and projects to help them tidy up and declutter around their living spaces. Chapters are as follows: Kitchen & Bathroom; Garage & Outdoors; Laundry Room, Closets & Clothes; Around the House; Workshop; Special Section: Storing Sports Gear.
If you've got stuff, you need to have places to put it and ways to keep it neat—and that's where this book comes in. Whether you're looking to tidy up or store your belongings, we have you covered with a wide variety of projects and hints to make your living space the most orderly it's ever been.
The book includes:
50+ PROJECTS for your kitchen, bathroom, backyard, bedrooms, of?ce, workshop and more.
SIMPLE STEP-BY-STEP INSTRUCTIONS to build customized storage solutions.
CLEVER TIPS for storing bulky or awkwardly shaped items like blankets, sports gear and kitchen utensils.
Whether you're looking to build a storage shed or to take advantage of unused space in your closet, this volume will help you tidy up all around the house—from the bathroom to the backyard and everywhere in-between

FROM A TRUSTED SOURCE. Family Handyman has been a leader in the DIY space for more than 50 years, so projects and tips are coming directly from the experts.
MORE THAN 50 PROJECTS. The book features more than 50 projects to help readers get organized and find unique, useful ways to store their stuff.
ENCOMPASSES THE WHOLE HOUSE. With five full-length chapters that address the main areas of the home and a special section devoted to sports gear, the book offers tips and solutions for every area of the home.
GREAT FOR ALL SKILL LEVELS. Projects of varying degrees of difficulty ensure that there's something for everyone from the advanced DIYer to someone who's just bought their first set of tools. Plus, "What It Takes" boxes on each project outline exactly what a DIYer needs to get the job done and how long each project takes.
APPEALS TO A LARGE AUDIENCE. Because of the book's focus on storage and organizing (rather than do-it-yourself repair), this book would be useful to readers in condominiums or apartments as well as homeowners.
CROSS-CHANNEL PROMOTION: Reader's Digest will be promoting the book through its direct-to-consumer channel and will also support the book through its website and social media properties.
Paperback | 272 pages | $19.99 USD | 8 1/8" x 10 7/8" | 9781621458043 | December 27, 2022