Family Handyman Whole House Repair Guide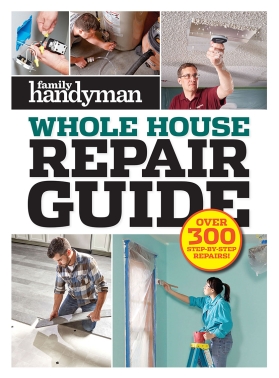 Over 300 Step-by-Step Repairs
By The Editors of The Family Handyman
Published by Trusted Media Brands, Inc., Family Handyman
The Family Handyman's Whole House Repair Guide gives readers the know-how and confidence to tackle repair jobs, save money and avoid the hassles of service calls. We cover all of the most common repairs from floors to ceilings, from paint to plumbing. Indoors or out, large or small, this is the guide you need to do the job right. This book will walk you through all projects and also provide tips and tricks that will make the jobs simpler.
850+ Photos and Illustrations show you exactly what to do.

125+ Pro Tips give you an insider's edge.

100+ Instant Fixes that solve problems in 20 minutes or less.

LOWER THE COST OF OWNING YOUR HOME

*Prevent small problems from becoming big expenses.

*Save money by repairing appliances yourself.

*Maintain your driveway, roof and deck to maximize longevity.

*Fix plumbing leaks and stop wasting water.

*Stop costly drafts with new weatherstripping.

UPDATE IT AND MAINTAIN IT WITHOUT HIRING A PRO!
Hardcover | 288 pages | $24.99 USD | 8 1/2" x 11 1/8" | 9781621455394 | September 14, 2021