Family Handyman Trade Secrets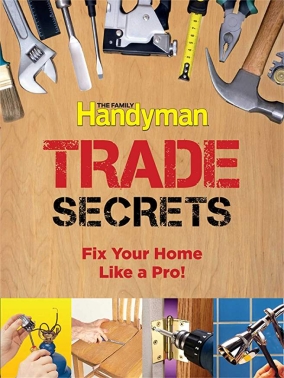 Fix Your Home Like a Pro!
By The Editors of Reader's Digest
Published by Trusted Media Brands
This helpful guide is full of quick and simple techniques to help you fix all the little problems around the house. From hinges to lights to the garage, if you have a household problem, this book has the answer, with clear instructions, illuminating photographs and helpful tips and tricks.
Have you ever meant to fix that rickety old chair but just couldn't find the time?
Or maybe there's a problem with your drains that you don't quite know how to fix but isn't worth calling a plumber about. We all have household projects that we keep putting off because we don't quite know how to go about doing them or we simply don't have the time. Now, Trade Secrets can help you shorten your to-do list by teaching you how to complete those projects quickly, safely and effectively. This book will walk you through big projects and also provide tips and tricks that will make the jobs simpler. The tips and techniques include:
Putting together a kit of essential tools
Tips on basic wall repair
Understand how to choose and install proper blinds
How to repair holes in plaster
How to hang a heavy picture
Tips for sanding a large area
How to build a home theater system
The basics of upholstery
Common exterior paint problems and solutions
How to sharpen a mower blade
Fixing a sluggish garage door
Understand how to choose and install proper blinds
Next time you have a project to do around the house, just check Trade Secrets for the proper procedure to follow, tools to use and tricks to speed and improve your work. You'll be done in no time and your house will look better than ever.
Paperback | 320 pages | 7 7/8 X 10 1/2 x 3/4 | 9781606524862 | June 14, 2012