Family Handyman Handy Hints Vol 2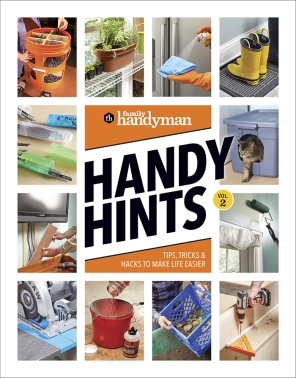 Family Handyman Handy Hints
Volume 2
By The Editors of The Family Handyman
Published by Trusted Media Brands, Family Handyman
From the reader-favorite section in Family Handyman magazine comes Handy Hints. Inside, more than 200 reader-submitted tips save you time and money and solve problems around the house and garden — from hidden pipes to sagging shelves to stinky gym bags. You'll find:
Chapters of hints devoted to cleaning, maintenance, organization, safety and security, DIY tools and techniques, and everyday solutions to minor inconveniences around the home

Projects to replace broken tile and build a storage lift for the garage

Easy-to-understand instructions for each hint and accompanying photos
SIMPLE AND QUICK

. The hints in this book are short and easy to understand, with concise instructions and illustrative photos. Most can be done in 10 minutes or less.

SAVES TIME AND MONEY

. Many of the hints in the book show readers a way to get a time-consuming task done faster or help them save money by using a common item for an uncommon purpose.

SUITABLE FOR EVERYONE

. Covering everything from cleaning and organization to painting to DIY and even vehicle upkeep, Handy Hints is helpful for a wide audience that includes renters and homeowners, beginners and experience DIYers.

READER TESTED.

Most of the tips

in the book were plucked straight from Family Handyman's reader-favorite "Handy Hints" department. Because they come from regular, everyday people, they're completely doable and useful in daily life. Other hints are adapted from professional tips.

BONUS MATERIAL

. In addition to the more than 200 hints, special sections throughout the book illustrate how to clean your chimney, put up vinyl siding, modify your home to make it safer for older folks, save your furniture from wear and tear and much more.
Paperback | 224 pages | $17.99 USD | 7" x 8 15/16" | 9781621459224 | May 2, 2023