Family Handyman Handy Hints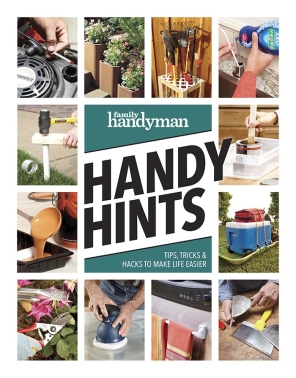 Tips, Tricks & Hacks to Make Life Easier
By The Editors of The Family Handyman
Published by Trusted Media Brands, Inc., Family Handyman
A collection of easy tips, tricks and hacks from Family Handyman to help readers clean better, get organized, solve everyday problems around the house and more

From the reader-favorite section in Family Handyman magazine comes Handy Hints. Inside, more than 200 reader-submitted tips save you time and money and solve problems around the house and garden — from noisy floors to stuck labels on plastic containers to clogged backyard ponds. You'll find:
Chapters of hints devoted to cleaning, maintenance, organization, DIY tools and techniques, and everyday solutions to minor inconveniences around the home
Projects to straighten pointed brick and build a super-handy storage bin system
Easy-to-understand instructions for each hint and accompanying photos
FAST AND EASY. The hints in this book are easy to understand and include both a text explanation and a visual guide. Most can be done in 10 minutes or less.
SAVES TIME AND MONEY. Many of the hints in the book show readers a way to get a time-consuming task done faster or help them save money by using a common item for an uncommon purpose.
SUITABLE FOR EVERYONE. Covering everything from cleaning and organization to painting to DIY and even vehicle upkeep, Handy Hints is helpful for a wide audience that includes renters and homeowners.
READER TESTED. The tips in the book were plucked straight from Family Handyman's reader-favorite "Handy Hints" department. Because the tips come from regular, everyday people, they're completely doable and useful in daily life.
BONUS MATERIAL. Readers get more than a collection of hints — through the sections at the end of several chapters, they also receive home improvement projects like a "throw-and-go" storage bin system and tips on how best to clean their living space.
Paperback | 224 pages | $17.99 USD | 7" x 9" | 9781621457770 | May 24, 2022