Birds & Blooms Everyday Nature Secrets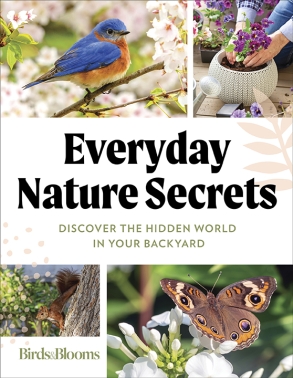 Discover the Hidden World in Your Backyard
By The Editors of Birds & Blooms
Published by Trusted Media Brands, Inc., Birds & Blooms
Surprising facts, stunning photography, and real-life birding and gardening stories are accompanied by practical tips and advice in this curiosity-sparking volume for nature lovers.

Did you know that blackpoll warblers can fly nonstop for more than 80 hours and cover more than 2000 miles during that time? Or that grey squirrels can fall more than 100 feet without serious injury? You'll find these and many more fun facts in Everyday Nature Secrets, a book for curious nature lovers. Backyard birders and gardening fans alike will be captivated as they explore the many wonders of nature through:
Fascinating details about backyard birds and other wildlife
Tips and tricks for better gardening
Real-life stories from fellow enthusiasts
Breathtaking full-color photography and whimsical illustrations
Inspiring nature quotes
Expert Q&As, infographics, top 10 lists, and more
The book is organized into four themed sections, including "Why Do Birds Do That?" and "Ultimate Garden Know-How." Readers can explore a specific topic they're curious about, quickly glean answers to common questions (How do I keep away garden pests? What do I need to know about bird baths?), or just flip to a page and learn the answer to a fascinating nature question they never even knew they had. What secret will you discover?

*150+ Gorgeous Nature Photographs and Illustrations: Everyday Nature Secrets celebrates the beauty of nature with more than 150 full-color photographs alongside whimsical illustrations, making it deserving of a place on any coffee table. Each page is a visual joy.

*Thoughtful Presentation: Carefully curated facts, photos, and stories have been organized into four themed sections, allowing readers to dive into the areas they're curious about. Yet the book also lends itself to quick browsing with pithy quotes, stunning photography, infographics, and custom illustrations.

*Practical Advice: In addition to surprising nature factoids, each section is full of tips and tricks that are easy to implement in a backyard or a community garden. Interviews with experts, along with true stories from nature enthusiasts, also provide real-world advice. From what to plant to attract pollinators to which bird feeder to buy for your favorite birds, this book is here to help you connect with nature.
Paperback | 256 pages | $19.99 USD | 7 3/4" x 10? | 9781621458210 | September 13, 2022