Best of Reader's Digest Vol 2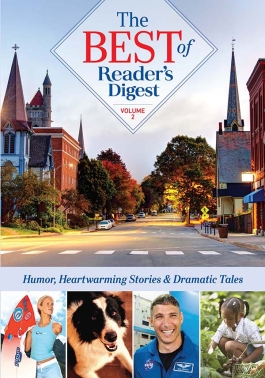 Humor, Heart-Warming Stories and Dramatic Tales
By The Editors of Reader's Digest
Published by Trusted Media Brands, Inc., Reader's Digest
This collection showcases over 40 timeless stories that make you feel deeply and stick with you, along with cartoons, jokes, and readers' warm and funny true anecdotes.
From everyday heroes to larger-than-life characters, small moments to historic events, the unforgettable stories in Reader's Digest come alive as never before in this keepsake book. Our editors have combed the archives for the narratives that thrill your senses, warm your heart, lift your spirits and leave you amazed or simply grateful for your connection with fellow humans, including:

*Pilot Down: The Rescue of Scott O'Grandy--An Air Force captain policing a NATO "No Fly Zone" is struck by a missile and must use his ejection seat and parachute down into enemy territory.

*The Pig That Changed My Life--The author agrees to take in what he's told is a mini pig. At first he hides the pig in his office, but his partner finds out and is upset. Nevertheless, they keep the pig and call it Esther. Esther grows up to be 650 pounds, sleeps with them along with 2 cats and 2 dogs, and wins the whole family over with her antics. The humans become vegan.

*To My Daughter on Acquiring Her First Car--This is a lovely letter written by a father to his daughter as he gets her a car. It is a fond but serious plea that she not take lightly the responsibility of working this machine, that her and many others' lives depend on her good judgement and care.


GREAT READS IN THE READER'S DIGEST STORYTELLING TRADITION. Featuring a variety of unforgettable settings and characters, The Best of Reader's Digest volume 2 includes more than 40 incredible stories. From real-life tales of adventure and survival to inspiring narratives of love and kindness to funny takes on human nature, this classic collection is sure to delight both new and longtime readers of the magazine.
FOLLOWS THE SUCCESS OF RECENT COLLECTIONS. Two recent collections, Soldier Stories and True Crime, demonstrate the enduring popularity of the Reader's Digest brand.
CROSS-CHANNEL PROMOTION. Reader's Digest will be promoting the book through its direct-to-consumer channel and will also support the book through its website and social media properties.
PERFECT GIFT FOR HARD TO BUY FOR PEOPLE. Great for Mom, Dad, grandparents and more, this collection is guaranteed to entertain, make you smile, laugh out loud and be reminded that people are good.
Hardcover w/Jacket | 320 pages | $24.99 USD | 7 1/8" x 10 1/4" | 9781621455622 | June 8, 2021