Taste of Home Bakeshop Classics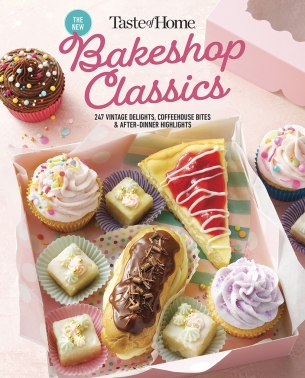 247 Vintage Delights, Coffeehouse Bites & After-Dinner Highlights
By The Editors of Taste of Home
Published by Trusted Media Brands, Taste of Home
Life is sweet. Celebrate it! Taste of Home Bakeshop Classics makes it easy. Discover the best recipes and the step-by-step techniques every home cook needs to treat the coffee klatsch, fill the cookie jar, bake up golden breads and master holiday-worthy pies … all with recipes approved by the pros at the Taste of Home Test Kitchen. Whip up sumptuous layer cakes, insanely decadent brownies, bakery-level Danish and cute cake pops almost too special to eat. They're all at your fingertips with Bakeshop Classics.
220 Beloved Sweets. Discover the ultimate round-up of craveable treats, from macarons and smash cakes to vintage long johns and upside-down cakes.
300 Gorgeous Color Photos. Find full-color photos and helpful step-by step preparation images throughout.
Short & Sweet Icon. Dozens of shortcut dishes made easier with store-bought ingredients are highlighted with this at-a-glance icon.
Best Birthday Ever. This bonus chapter is brimming with dozens of sweet sensations for anyone's big day! Ice cream cakes, birthday cake shooters, and even adorable children's treats.
Nostalgic Seasonal Sweets. Create new memories with your children as you revisit vintage Christmas candies, autumn's best caramel apples in the fall and the fruity summer classics everyone adores.
Café Beverages. Pumpkin Spice Latte, Chai Tea and Creamy Irish Coffee are just some of the coffeehouse specialties you'll find here. Saving money and dazzling friends has never been easier!
QR Codes. Simply scan the codes to watch the Taste of Home Test Kitchen staff put together some of the country's most popular dishes. Bake with confidence as you follow their lead.
Nutrition Facts with Every Recipe. Because it's important to know what you're serving family and friends, we've included a complete set of nutrition facts with every recipe, plus diabetic exchanges where applicable.
CHAPTERS
Cookies, Brownies & Bars
Cakes & Cupcakes
Pies & Tarts
Pastries
Cheesecakes & Custards
Daily Breads
Muffins & Scones
Coffee Cakes & Sweet Rolls
Cafe Beverages
BONUS: Best Birthday Ever
Nostalgic Seasonal Sweets
Hardcover | 320 pages | $26.99 USD | 8 1/8" x 10 1/4" | 9798889770145 | January 23, 2024