21-Day Tummy Diet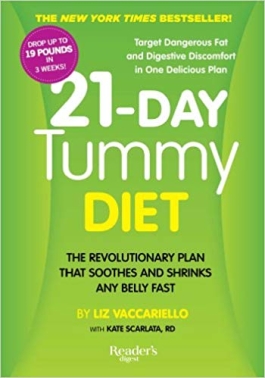 A Revolutionary Plan That Soothes and Shrinks Any Belly Fast
By Liz Vaccariello with Kate Scarlata
Published by Trusted Media Brands
The New York Times best seller is now in paperback. As seen on The Doctors, and Dr. Oz Show, 21-Day Tummy Diet, is based on the latest science, that targets excess weight and belly fat while addressing the most common digestive disorders.

Relieve digestive issues and shrink your waistline with the new, sensitive stomach meal plan from Liz Vaccariello, the New York Times® best-selling author of The Digest Diet and Flat Belly Diet Series. Lose the Belly Bloat and feel better fast. 21-Day Tummy Diet is designed specifically for people with temperamental tummies. You'll whittle your middle and discover which foods protect you from the main causes of digestive discomfort.

Say good-bye to your grumbling belly and start feeling good again. Let the 21-Day Tummy show you how!

Inside you'll find:

• An easy-to-follow 21-day eating plan that minimizes shocking Belly Bully foods that cause discomfort and weight gain, while piling on soothing Belly Buddy foods.

• More than 50 scrumptious recipes such as Tomato-Ginger Flank Steak, Chunky Chicken Couscous, Twice-Baked Potato with Pepper Hash, and Almost-Pumpkin Mini Pies. • Inspirational stories and advice from real readers who tried the plan—one lost 19 pounds, another 4 ½ belly inches, and everyone improved their digestive symptoms in just 3 weeks!

• An optional equipment-free workout plan that helps to both sculpt and sooth your stomach with a mix of core strengthening, walking, and yoga. 21-Day Tummy is a fun, easy guide to healthy eating that will have a smaller, healthier you feeling better than, well, possibly ever!
paperback | 320 pages | 7 1/4 X 10 1/4 | 9781621452041 | December 23, 2014