100 Things Every Homeowner Must Know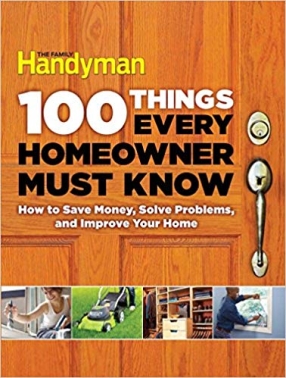 How to Save Money, Solve Problems and Improve Your Home
By The Editors of The Family Handyman
Published by Trusted Media Brands
The Family Handyman's 100 Things Every Homeowner Must Know gives you the knowledge you need to be a better homeowner. You'll make informed decisions, avoid frustrations and save thousands over the life of your home. Here's just a small sample of what's inside:
The smartest thing you can do before going on vacation
Push a button and save $100
Be ready for any natural disaster
Make burglars bypass your house
The most effective way to cut heating and cooling costs
Clever shortcuts for home maintenance—indoors and out
Keep mice, ants and other invaders out of your house
Boost curb appeal without remodeling
What to do when the power goes out
The most common—and costly—homeowner mistakes
Eliminate noises, odors and other household irritations
Grow the best lawn on the block
Secret weapons pros use for easy, instant repairs
Make appliances last years longer
The key to drip-free faucets
Make your mower start right up—every time
Cures for damp basements
Exterminate mold and mildew
Pick a paint color you'll love
Get faster downloads and better TV quality
Stop peeling paint
Plus, incredibly easy repairs for appliances, plumbing, flooring, walls, furniture and more!
paper over board | 288 pages | 7 7/8 X 10 1/2 | 9781621452201 | April 7, 2015