Taste of Home Slow Cooker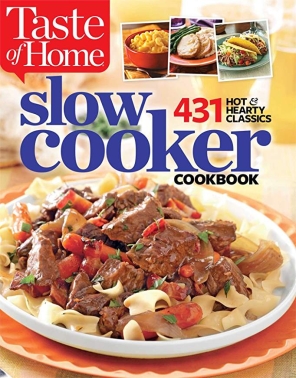 430 Hot & Hearty Classics
By The Editors of Taste of Home
Published by Trusted Media Brands
Now with 35% new content, this cookbook contains 430 delicious dishes that simmer to perfection while leaving more time to spend with the family.
There's nothing like the aroma of a home-cooked dinner welcoming you at the door. With a just a hint of planning, an incredible meal can simmer to perfection on its own while you're at work, running errands, or spending time with the family. Chapters include recipes for:
Beef, Pork, and Poultry: Sweet and Savory Brisket, Chicago-Style Beef Sandwiches, Ham Tetrazzini, Cranberry Turkey Breast with Gravy
Soups, Stews & Chili: Cincinnati Chili, No-Fuss Potato Soup, Everything Stuffing, Shrimp Marinara
New Lightened Up chapter contains dozens of lightened-up takes on beloved classics: meat loaf, creamy artichoke dip, beef stew, sloppy joes and even dessert.
Sweets, Snacks & Drinks chapter makes entertaining so easy with best-loved meatballs, dips and snacks, hot drinks, delectable desserts and more.
And because it's Taste of Home, you'll also find:
A beginner-friendly overview of the basics of slow cooking
Easy-to-follow directions with cooking tips throughout
Prep/Cook times
Recipes made with everyday ingredients
paperback | 256 pages | 7 x 9 1/8 x 11 /16 | 9781617652172 | November 14, 2013