Taste of Home Busy Family Favorites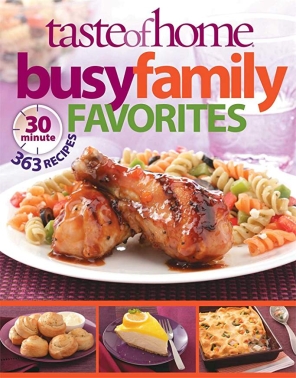 363 Thirty-minute Recipes
By The Editors of Taste of Home
Published by Trusted Media Brands
Weeknight cooking with family appeal in 30 minutes or less! The focus is on weeknight entrees, but side dishes, desserts, soups and sandwiches are also included.
"Hey, Mom. I'm hungry! What do we have to eat? "
It's the shout from down the hall that can stress out the time-starved cook. Not to worry. You can save time—and your sanity—with
Taste of Home Busy Family Favorites.
This collection of 350 family-pleasing recipes will help you stock up on homemade snacks and get a delicious dinner on the table fast. There is also a chapter on breakfast that appeals to hurried households, and appetizers to keep kids quiet while you prepare dinner.
Try tempting dishes such as:
Tortellini Soup
Italian Patty Melts
Pork Chops with Apple Dressing
Apricot Chicken Drumsticks
Best Chicken 'n' Biscuits
Fantastic Fish Tacos
Potato Wedges
Creamed Corn with Bacon
Banana Split Shortcake
Gingersnap Pears
Each recipe features a short ingredient list, simple prep techniques and easy cooking methods. Plus, there are over 200 full-color tempting photos!
paperback w/French flaps | 256 pages | 7 x 9 1/8 x 11/16 | 9780898218398 | June 2, 2011