New Complete Guide to Sewing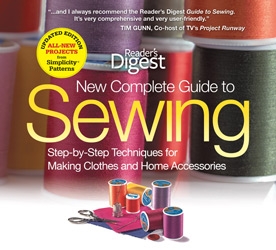 Step-by-Step Techniques for Making Clothes and Home Accessories
By The Editors of Reader's Digest
Published by Trusted Media Brands
This ultimate stitch-and-seam reference book for both beginners and seasoned sewers includes thousands of illustrations and diagrams for each stage of the sewing process. In this updated edition, sewers will find:
20 new modern projects from Simplicity® patterns; includes updated photographs
Instructions for making smart trousers, traditional curtains, a light summer dress, kids clothes, a beach towel, patchwork bag, and more
Tips on how to select the right equipment, choose the perfect fabric, and use the right technique for every project
Foolproof ways to discover the perfect pattern size and how to incorporate only the most flattering design details
" . . . and I always recommend the Reader 's Digest
Guide to Sewing
. It 's very comprehensive and very user-friendly. "
—TIM GUNN, Co-host of TV 's Project Runway
" . . . abundant and precise line art, enticing photographs, simple-to-follow instructions and valuable information on tools, supplies, materials and techniques. "
—The New York Times
"A woman who takes sewing seriously, or who wants to learn to sew, won 't want to be without this book. "
—Portland Oregon Journal
"Here is everything you always wanted to know about sewing—a veritable encyclopedia of stitching facts. "
—The Austin American Statesman
Hardcover | 384 pages | 10 3/8 x 9 1/4 | 9781606522080 | November 12, 2010